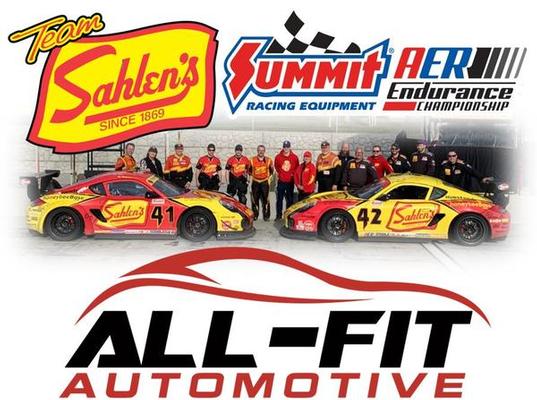 All-Fit Automotive is excited to announce a brand partnership with Team Sahlen, a Championship winning Endurance Sports Car Team. The partnership started off with Team Sahlen seeking ways to improve their Porsche Cayman race cars. More specifically, Team Sahlen was seeking ways to dramatically increase the downforce while simultaneously decreasing drag on their Stuttgart racers. These performance benefits do not usually occur simultaneously on a race car. If you increase downforce, there is usually some type of increase in drag. What Team Sahlen searched for was a way to decrease the amount of air going under the race car to accomplish this goal.
This led to online research and many YouTube videos watched by the crew at Team Sahlen. There were many types of materials used by racers, track day hobbyists and street tuners. This included Carbon Fiber, Plastic, Sheet Metal, and Foam padding. But then Team Sahlen discovered exactly what they were looking for. A company, called All-Fit Automotive, made a Unique, Proprietary Rubber Lip Material that was very strong but flexible. The material came in a variety of lengths and widths. These widths included 1 ½", 2 ½" and 3 ½" Inches. Team Sahlen decided upon having the 2 ½" length All-Fit Lip on the front of the Caymans. Once installed, the bottom of the All-Fit Lip actually touched the ground under heavy breaking and curb riding. For the sides of the Caymans, the team installed the 3 ½" All-Fit Lip. Once installed, this 3 ½" length was as well almost touching the ground on the side of the cars.
AJ Dudon – President of All-Fit Automotive shared his thoughts on the new partnership – "We received an exciting opportunity from a race team using our All-Fit Lip Kit for their race cars. Although we knew our material was very durable, their test of endurance for over 18 hours of racing reassured our beliefs. Upon speaking with driver Will Nonnamaker, he shared that never once did our product rip or tear and it held up through the rigors of the tough racing. Additionally, he shared that having our All-Fit Lip dramatically improved the Cayman's top speed, as well as increased the downforce under braking and in the turns. These vehicles take a lot of abuse throughout the course of an endurance race. To survive these conditions and enhance the aerodynamics is a humbling accomplishment."
The All-Fit Lip Kit did indeed assist the performance of the Team Sahlen Caymans. In fact during the 9 Hour Summit Racing – American Endurance Racing event held at Watkins Glen International on April 13th; the Team Sahlen Porsche Caymans secured 1st and 2nd OVERALL racing against 67 competitors.
Will Nonnamaker – driver for Team Sahlen shared his thoughts – "It is basic racing dynamics 101 that if you eliminate the air getting under the front of the race car, as well as not escaping out the sides that you will create more downforce and decrease drag. The hard part is finding a material that will achieve these results. And our type of racing is long endurance events, so we had to have a material that could withstand the test on the track. It was very obvious from our lap times, that we had done something quite dramatically to improve our Caymans. And it didn't take a keen observer to notice why. The All-Fit Lip Kit fully wrapped around the front and sides of the Porsches had a noticeable impact on all looking over our racers. I can't say enough positive things about the All-Fit Lip Kit,,,the only problem now is that all our fellow competitors will be purchasing and installing their own All-Fit Lip Kits at the next event."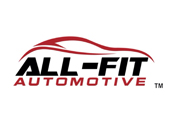 About All-Fit Automotive:
All-Fit Automotive was founded by a team of car enthusiasts with a simple vision for the automotive industry—meeting the needs of the average car lover who dreams of modifying their car. As a novice car enthusiast wanting to modify your vehicle, you quickly learn that most modifications are extremely expensive. If you're inspired to improve the look of your vehicle but don't have a big budget, All-Fit Automotive is the right choice.
What Makes All-Fit Automotive Different?
All of their parts are made in the USA. They work hard to produce quality parts and support American jobs.
They fulfill orders same day whenever possible. They take great pride in their products, and customer service is one of their top priorities.
All their parts are universal fitting. This keeps the cost low without sacrificing quality.
They make sure their parts are easy to install. No specialized tools are required, and you can do it right in your driveway.
They design their parts to offer an additional layer of protection. Whether it's door dings, curbs and scrapes, or paint nicks, their parts have you covered (in addition to enhancing your vehicle's appearance).
About Team Sahlen:
Team Sahlen is an Endurance Sports Car racing team. The current series the team competes within include the Tire Rack – ChampCar Endurance Series, the Summit Racing – American Endurance Racing Series and the World Racing League. Team Sahlen has achieved the unique distinction of being the only team to have won overall in these 3 different sportsman endurance series, having accomplished this mark amazingly three seasons in a row: 2016, 2017, 2018. The Team's weapons of choice on the race track includes a vast array of European Machinery – Porsche Boxster, Porsche Cayman, Porsche Cayman PDK-GT and the Audi R8 LMS GT3. Established in 1984, the team has been successful in all Endurance series they have competed within. This list includes the SCCA Escort Endurance Series, IMSA Firestone Firehawk Series, Grand American ROLEX Series and the IMSA Continental Tire Series. The achievement with these Professional Series includes 7 Driver Championships, 53 Victories, 160 Podiums and 42 Pole Positions.
2019 Team Sahlen Campaign Partners
honeybeeBase.com, Porsche of Beachwood, ECS Tuning, Tarett Engineering, Guard Transmission, Pittsburgh International Race Complex, HubstandsPRO, Maxima Racing Oil, Brothers Grimm Landscaping, NGK Spark Plugs, CM Racing Products, Mothers Polish and Wax, Grassroots Motorsports Magazine, Design Engineering Inc., Hard Brakes, Forgeline Wheels, Optima Batteries, All-Fit Automotive, Mazdaspeed, MSI Racing Products, Winding Road Racing, eEuroparts.com and WIX Filters.