Team Sahlen enters this weekend's Tire Rack – ChampCar Endurance Series' Pittsburgh Grand Prix with high hopes to defend their 2017 & 2018 Overall Victories at the track. But with increased competition in the Tire Rack – ChampCar Endurance Series, nothing is for sure. Wayne Nonnamaker shared his thoughts on the challenge that Team Sahlen faces this year – "There are over 70 racers entered for this weekend's dual enduro races. This is quite a jump from the 50 entries in the 1st race here back in 2015. There are a lot of well-prepared cars and good drivers that will be aiming for the same goal of winning overall. As the old axiom goes, to win you 1st must finish. And our team's focus is to be there at the end of the race. Then we can sort out our chances of victory in the last hour of the race."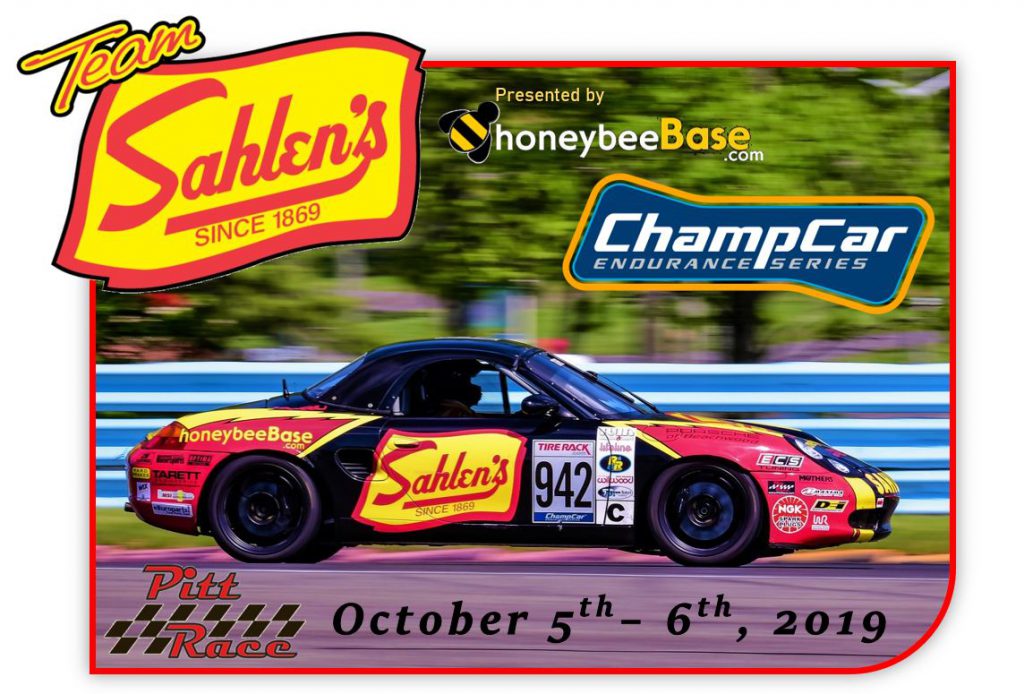 For this year's event, Team Sahlen will be campaigning their brand-new Porsche Boxster. In the debut event for the Porsche, the Sahlen's Champyard DOG at the Glen, the team secured a very reassuring 4th and 3rd in the dual enduro events. Then most recently, at the Tire Rack – ChampCar Endurance Series' 24 Hour of Nelson Ledges, Team Sahlen was able secure the Overall Victory with a flawless race. Joe Nonnamaker shared his thoughts on the victory at this iconic 24 hour event – "I raced in the inaugural Longest Day in 1980. This year's event was my 7th attempt at this event. We have secured class wins before and come very close to the overall victory,,,but the top spot on the podium has been very elusive for us. This year though, we had the absolute most perfect race. We only spent 3 extra minutes on pit road, and the Boxster did not have 1 scratch on it at the conclusion of the event,,and we secured the OVERALL Victory."
In previous chapters of the Pittsburgh events, Team Sahlen had relied upon their venerable rotary rockets, their trio of Mazda RX7s. In 2015 & 2016, Team Sahlen's attempts to secure overall victory at CHampCar's Pittsburgh event were respectable finishes of 5th and 3rd place. Then in 2017, the team had the break through victory and then backed this up with a 4 foot margin of victory in last year's event. Will Nonnamaker shared his thoughts on these past year's Pittsburgh events – "Pittsburgh International Race Complex seems to be a perfect track for the Mazda RX7. There are a lot of high speed sweepers and momentum turns that suits the unique characteristics of the rotary rocket. Hopefully the Boxster fits right into the track's characteristics and we can be challenging for the overall victory once again this year."
The Tire Rack – ChampCar Endurance Series' Pittsburgh Grand Prix will be held on October 5th and 6th. Saturday's 8 hour enduro race will start at 9 am and conclude at 5 pm. And then Sunday's 7 hour enduro race will start at 9am and conclude at 4 pm.
Tune into ChampCar Live presented by AutoZone for full flag to flag coverage of each day's endure races. https://www.youtube.com/c/ChampCarEnduranceSeries/live
2019 Team Sahlen Campaign Partners
honeybeeBase.com, Porsche Beachwood, Audi Mentor, ECS Tuning, Tarett Engineering, Guard Transmission, Pittsburgh International Race Complex, HubstandsPRO, Maxima Racing Oil, Brothers Grimm Landscaping, NGK Spark Plugs, CM Racing Products, Mothers Polish, Grassroots Motorsports Magazine, Design Engineering Inc., Hard Brakes, Forgeline Wheels, Optima Batteries, All-Fit Automotive, Mazdaspeed, MSI Racing Products, Winding Road Racing, & WIX Filters.