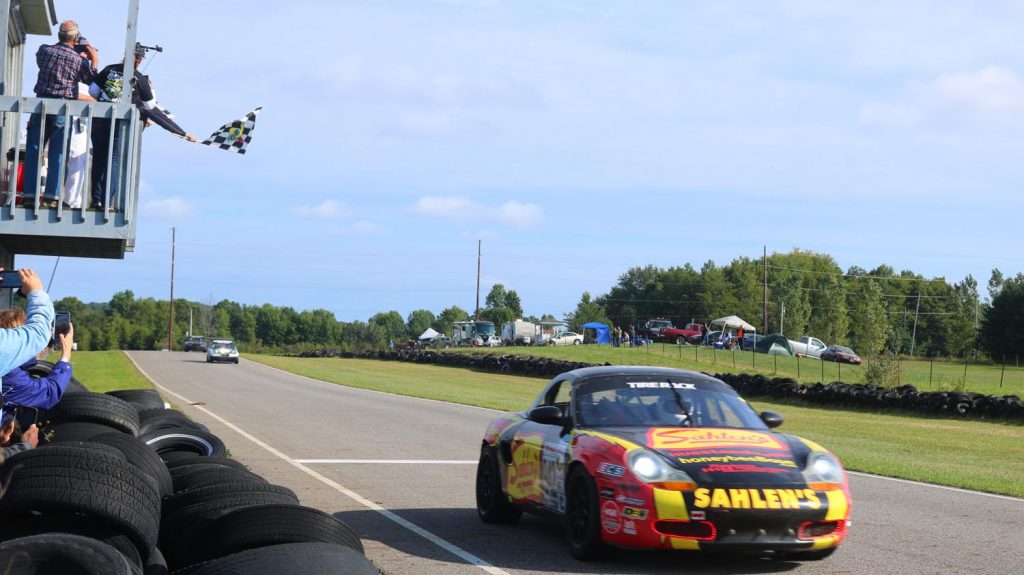 Fast Facts:
Team Sahlen led 23 hours and 53 minutes of the race
The overall margin of victory was 18 laps
Total Laps was 968, for a grand total of 1936 Miles
The #942 Porsche Boxster "Ketchup" made 11 Five Minute Pit Stops – the Minimun allowed by the rules
The #942 was only on pit road for an additional 3 minutes for the entire rest of the race
This win marks the 1st Overall Victory by a Porsche Boxster in the Tire Rack – ChampCar Endurance Series.
All four drivers, Joe Sahlen, Joe Nonnamaker, Wayne Nonnamaker and Will Nonnamaker, each drove 6 hours each of the 24 hour event
Joe Nonnamaker has now participated in 7 Nelson Ledges 24 hour events, including the inaugural event in 1980
The 2011 Nelson Ledges 24 was the 1st event that Team Sahlen competed in the Tire Rack ChampCar Endurance Series.
If you were going to write the perfect script for 24 hour race, then this year's event at Nelson Ledges would be a blueprint. From beginning to end the race was went exactly according to plan. Of course that plan was 39 years in the making. Flashback to 1980, and a young Joe Nonnamaker had entered his VW Rabbit in the inaugural event called the Longest Day of Nelson Ledges. Joe proceeded to enter several more of these twice around the clock events at this Iconic northeast Ohio track through the years – 1981, 1982, 1996, 2011, 2012,,,,and to the present year 2019. Because of these many years, Joe and his family knew exactly what to expect and to be prepared for.
Joe shared his thoughts – "After being through so many events, we have really learned what emergencies to be prepared for. This can include what spares to have at the track, back up plans, emergency repair kits, pit stop coordination, and etc.. And trust me, we have learned what to do by all the mistakes we have made through the years. We didn't leave much to risk this year. Including coming to Nelson Ledges about 4 weeks ago just to test the car and get the drivers some laps. I think that test really helped, as made some set up changes, and Joe Sahlen had the chance to get his 1st laps on this high speed sweeping track."
Practice day saw the team put minimal time on #942 "Ketchup", in order to save the Boxster for the race. Instead the team had brought the Porsche Cayman "Salt" to provide seat time for the drivers in advance of the race. Night time practice saw initial headlight aiming perfected rather quickly, so that all could get to bed early.
On Friday night, and Saturday night, the Nelson Ledges Road Course had arranged for live Band performances for the racers and fans. Sahlen's assisted in being an associate sponsor to this wonderful event. All the bands were great, but Friday's Invincible band was particularly good, with the team getting to chat with the lead singer who was a Pat Benatar tribute.
At the start of Saturday's race, Team Sahlen received the random staring draw slot of 12th on the grid. This provided starting driver Wayne Nonnamaker with the opportunity to quickly hone up on his passing skills. Seven minutes into the race, Wayne had "Ketchup" in the lead. A position the team would not forsake for the remainder of the 23 hours and 53 minutes.
As the race drew into the late afternoon, a significant wreck and oil spill saw the entire race come to a stand still red flag. The red flag lasted for about 40 minutes. Once racing resumed, Team Sahlen continued to roll along collecting laps.
Soon the day turned into night, and Team Sahlen's drivers vast experience of driving in the dark became a very valuable asset. While many struggled have consistent lap times and even some having off track incidents, the #942 "Ketchup" just kept rolling along. And when it was time for a pit stop, the Team Sahlen crew was there to perform perfect service each time. Not only did each pit stop require a driver change and fuel, but often times there was tire pressure checks, oil checks, tire changes, windshield tear offs, and brake pad checks. Yet, in spite of all that can occur in the pits, and on track, the #942 Ketchup spent exactly 58 minutes on pit road the whole race. This included the required 11 Five Minute Fuel Stops. Added and subtracted up, this equals only 3 additional minutes on pit road.
Team member Allen Wells shared his thoughts – "We had thoroughly prepared for this race to be execute in the pit stops. Everyone at Team Sahlen did their part to ensure that we were as close to perfection as we could."
As the evening turned into night and then into early morning, many competitors had difficulties with their car's performance and reliability, as well as just pure fatigue. Will Nonnamaker shared his thoughts on this time of the race – "It saw a lot of crazy stuff on track in my last shift from 4-6 am. Cars dragging parts and kicking up sparks. Cars locking up and going straight off track. The craziest was a car that dropped its wheels and flipped down the road in front of me. The good news is that I found out later on the driver was ok, which was the best news, even if the car was a right off."
As dawn broke, the skies were clear and blue. And Team Sahlen found themselves with an astonishing 20 lap lead. With such a lead, everyone on the team knew that bringing the car home across the finish line was the essential goal now. Extra attention was paid to looking "Ketchup" by the crew on each pit stop. The drivers too extra caution in passing. Shifts were handled more delicately. All in the effort to get to the end at 10 am .
The honor of finishing the race went to Joe Sahlen, bringing the #942 "Ketchup" across the finish line with a margin of 18 Laps. Joe shared his thoughts – "What a thrill to be driving those last few laps. I have competed in many 24 hour events before, but never at Nelson. Will had been prodding me that I needed to run this race for several years."
Wayne Nonnamaker shared his thoughts at the end of the event – "I can't believe it, I just can't really believe it. Ever since Dad ran the 1st event here way back in 1980, it has been our family's mission to win Overall here. We have come so close to winning here before. Each of those past races had a story of what could have and should have been. But now, the wait is finally over, and here we are in Victory Lane, the Overall Winner. If there ever was such as thing as a perfect race, this would be it."
2019 Team Sahlen Campaign Partners
honeybeeBase.com, Porsche Beachwood, Audi Mentor, ECS Tuning, Tarett Engineering, Guard Transmission, Pittsburgh International Race Complex, HubstandsPRO, Maxima Racing Oil, Brothers Grimm Landscaping, NGK Spark Plugs, CM Racing Products, Mothers Polish, Grassroots Motorsports Magazine, Design Engineering Inc., Hard Brakes, Forgeline Wheels, Optima Batteries, All-Fit Automotive, Mazdaspeed, MSI Racing Products, Winding Road Racing, & WIX Filters.