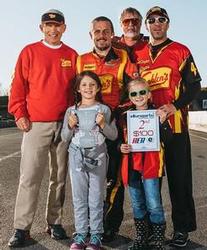 Posted (01/05/2017) -

Team Sahlen enters its 33 year of Sports Car Racing in 2017. With a schedule that encompasses 14 races and 100+ hours of racing, a strong driver line up will be necessary for the team to take on the competition in these grueling endurance events. All 6 drivers from the 2016 season have been re-signed to man the wheels of Team Sahlen's fleet of 3 Porsche Caymans and 3 Mazda RX7s. These drivers are Jacob Grimm, Joe Nonnamaker, Wayne Nonnamaker, Will Nonnamaker, Joe Sahlen and Joseph Sahlen. This exact line-up of drivers was contributed to Team Sahlen's achievement in securing OVERALL Victories in 3 different series: American Endurance Racing, ChumpCar and World Racing League.

Team Sahlen's longest tenured driver Joe Nonnamaker returning for his 26th season with the team. Joe Nonnamaker shared his thoughts coming into the 2017 season - "I am very excited about race season ahead. With 14 races on schedule, there will be certainly a lot of racing action. I am looking forward to getting to race at the new National Corvette Museum Motorsports Park in Bowling Green, Kentucky. I have heard some great things about this track."

Joe will be paired with his son Wayne Nonnamaker. The duo have teamed together in the past for many victories. The highlight to this combo being in 2003 when they won the Continental Tires Series GS class Driver Championship. In addition to his 2003 title, Wayne also has 2 additional Professional Driver Championships to his CV (1999 & 2002). Wayne also was honored with the ROLEX Sportsman awards: 2011 Bob Akin GT Class and 2013 Jim Trueman Prototype Class.

The duo of Joe Sahlen and Will Nonnamaker will be paired together during 2017. This season marks the 12th season that Joe & Will will be sharing driving duties at Team Sahlen. During this past season Joe contributed to 2 of Team Sahlen's overall victories. Joe shared his excitement for the year ahead – "This is shaping up to be a great season ahead. Again we get to race 2 times at my favorite track – Watkins Glen International. Then at the end of the year in December, we are going to conclude the season at Circuit of the Americas. I had only a brief few laps of the track when we were there 3 years ago with the Prototypes. Even with limited exposure, I could tell that this track is very exciting and challenging. I am looking forward to returning and really getting to get up to speed at this venue."

Joe's co-driver Will Nonnamaker be celebrating his 25th year of racing this coming season. In that span of time Will has succeeded in securing 3 Professional Driver Championships (1999, 2001 & 2002). Additionally, Will secured the inaugural 2005 Grand American ROLEX Series Bob Akin GT Class Sportsman Award.

Returning to Team Sahlen for 2017 for partial season schedules will be Jacob Grimm & Joseph Sahlen. The duo paired together last year for the 1st time at the Sahlen's Chumpyard DOG at the Glen and secured a very, very solid 17th out of 100 entries. Jacob only raced one time with Team Sahlen in 2017, but he certainly tested his endurance limits in other ways during the year. In this past fall, Jacob fulfilled a lifelong dream of climbing Mount Kilimanjaro in Africa. Jacob shared his thoughts on the experience – "Climbing Mount Kilimanjaro was like nothing else I have ever experienced. It was truly a test of my physical and mental fortitude. Certainly though there can be comparisons made to racing, especially long endurance events. I remember our 1st race at Nelson. It was 25 hours and 25 minutes with 75 cars on the 2 mile track. You had to just take the race just one lap at a time,,,then one hour at time. And making that climb in Africa was the same way,,one step at a time, one day at a time,,, until you finally reached the top,,,and of course made it back down safely."

Team Sahlen' 2017 Season Schedule

Date Track

April 22-23 Watkins Glen International

May 27-28 Watkins Glen International

June 17-18 National Corvette Museum Motorsports Park

September 23-24 Mid-Ohio Sports Car Course

October 7-8 Pittsburgh International Race Complex

October 21-22 Mid-Ohio Sports Car Course

December 2-3 Circuit Of the Americas

2017 Team Sahlen Campaign Partners

eEuroparts.com, Tarett Engineering, Guard Transmission, Porsche of Beachwood, Pittsburgh International Race Complex, HubstandsPRO, Brothers Grimm Landscaping, NGK Spark Plugs, CM Racing Products, Mothers Polishes, Grassroots Motorsports Magazine, Design Engineering Inc., Hard Brakes, Alcon Rotors, Lamin-X, Optima Batteries, Mazdaspeed and TheRaceSite.com.