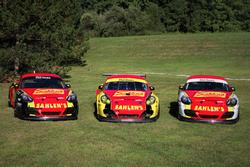 Posted (10/08/2016) -

It has been over a year since Team Sahlen last raced at Mid-Ohio Sports Car Course. The last time Team Sahlen visited Mid Ohio was at the 2015 season finale for the American Endurance Racing series. Iroinically, this will be the season finale again for the American Endurance Racing Series. At last season's Mid-Ohio race, Team Sahlen secured a 1st place finish in both Saturday and Sunday's 8 ½ hour Endurance Races with their #43 & #41 Porsche Caymans. Since that event, Team Sahlen also entered the season opening event for American Endurance Racing in 2016 at the Sahlen's Sports Car Springfest at the Glen. This event saw Team Sahlen capture the Saturday 8 ½ hour endurance event. Then on Sunday's event Team Sahlen ran a hard fought fight that saw the team miss out on 1st place by only 20 seconds after 8 ½ hours of racing.




With the ever increasing level of competition in the American Endurance Racing series, Team Sahlen brought on a 3rd Porsche Cayman to their fleet. Will Nonnamaker shared his thought on the 3rd Cayman – "We have always found it beneficial to have a spare car when we race. It allows us to get maximum track time for all drivers during testing and practice. Additionally, it allows us to go in multiple directions on set up to find the best option for the race. For fun, we made this paint scheme like the other two, but with bright yellow fenders and bumpers. For sure, this should be one car that will hard to miss on track!"




The driver pairings for the weekend will be Joe Sahlen & Will Nonnamaker in the #41 Cayman and Joe & Wayne Nonnamaker in the #43 Cayman. The venue is only a hour and half drive for the Nonnamaker family, so Joe, Wayne and Will consider the Lexington, Ohio course to be their home track. Joe Nonnamaker shared his thoughts – "I have been coming to this track since the early 70's, when I raced my Ford Pinto. There are times I feel like I could drive this track with my eyes closed. The track as a real flow to it when you get in the groove. Hopefully this home field advantage will come into play as we race the against this full field of racers come Saturday and Sunday."




Practice and Qualifying for the American Endurance Racing event at Mid-Ohio Sports Car Course will be in Friday, October 21st. Both the Saturday and Sunday races start at 8 am and concludes at 4:30 pm.




2016 Team Sahlen Campaign Partners:

eEuroparts.com, Tarett Engineering, Guard Transmission, Porsche of Beachwood, Pittsburgh International Race Complex, HubstandsPRO, Brothers Grimm Landscaping, NGK Spark Plugs, CM Racing Products, Mothers Polishes, Grassroots Motorsports Magazine, Design Engineering Inc., Hard Brakes, Alcon Rotors, Lamin-X, Optima Batteries, Mazdaspeed and TheRaceSite.com.