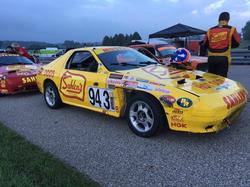 Posted (09/10/2016) -

At last year's ChumpCar event at Pittsburgh International Raceway, Team Sahlen debut 2 brand new built Mazda RX-7s. The red and yellow racers were aptly named Ketchup and Mustard. The 2 new cars were just completed at 7 pm at night the day before practice was to begin. Team Sahlen also brought their tried and true black Mazda RX7 (named Charcoal) to the race.




Team Sahlen had raced Charcoal with good success for several years in ChumpCar racing, so the team was confident in this proven commodity. But the 2 brand new built RX7s were complete unknowns. To top off the anxiety, this particular ChumpCar event was to be an 18 hour event spread out over 2 days. Amazingly, not on did all three RX7s finish the race, but they secured a very respectable 5th, 9th and 13th out of 50+ entries.




Fast forward to 1 year later, and the Team Sahlen crew has extensive time to sort through and continue to develop the Mazda RX-7 platform for ChumpCar racing. This development over the past spring and summer has paid off with recent success. In a recent 7 hour race with the World Racing League series, the Ketchup and Mustard entries secured a 1st and 2nd place OVERALL. Then at the August ChumpCar "Cookie Cutter Classic" event at Gingerman Raceway, Team Sahlen's Ketchup was able to break through to the win column with a 1st place finish in the 7 Hour Sunday event. Team Sahlen's Mustard entry proved to be a steady racer as well, securing a 4th place finish on both Saturday and Sunday's 7 hour enduros.




Now Team Sahlen returns 1 year later to Pittsburgh International Raceway Complex to take on the ChumpCar event. Similar to last year, the event features an entry list of 50+ race cars. But this year's race format is a bit different. Instead of an 18 hour event spread out over 2 days, there will be two 7 hour enduros over the weekend.




Driver's for Team Sahlen this weekend will be Joe Sahlen, and Joe, Wayne & Will Nonnamaker. Joe Sahlen, whom is fresh off his victory at Gingerman Raceway, shared his thoughts on the weekend – "I really enjoy the newly extended track at Pittsburgh. It is really fun and challenging to drive. Last year I was able to share the drive in Charcoal, where we finished in 5th place. I think that this track really suits the style of our RX7s. I know the crew has continued to put in effort to improve our RX7s, and hopefully we can continue our winning ways from our most recent ChumpCar race."




2016 Team Sahlen Campaign Partners:

eEuroparts.com, Tarett Engineering, Guard Transmission, Porsche of Beachwood, Pittsburgh International Race Complex, HubstandsPRO, Brothers Grimm Landscaping, NGK Spark Plugs, CM Racing Products, Mothers Polishes, Grassroots Motorsports Magazine, Design Engineering Inc., Hard Brakes, Alcon Rotors, Lamin-X, Optima Batteries, Mazdaspeed and TheRaceSite.com.