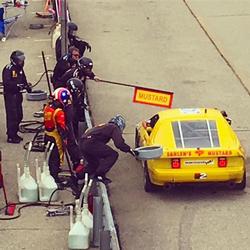 Posted (08/03/2016) -

Team Sahlen recently entered the World Racing League event at Gingerman Raceway. At this event, there were two 8 hour Endurance Events over Saturday and Sunday. Over the course of the 2 days of racing, the #243-Mustard & #242-Ketchup Mazda RX7s ran the full distance, which total 32 hours of on track racing. Not only did Team Sahlen secure the Overall Victory in the Saturday event, the crew and drivers secured important track time knowledge of the Gingerman Raceway. This included how to swiftly drive the track, tire & brake wear, fuel mileage and rain time.




All of this knowledge will be invaluable as Team Sahlen makes their return 4 weeks later to Gingmerman Raceway for the "The Cookie Cutter Classic" ChumpCar event. There will be dual 7 hour events on Saturday and then Sunday. The driver line up for the #242-Ketchup entry will be Joe Sahlen & Will Nonnamaker. For the #243-Mustard will be the father/son duo of Joe & Wayne Nonnamaker.




Will Nonnamaker – "We are very excited to be back racing in ChumpCar. At our most recent ChumpCar event at the Sahlen's Chumpyard DOG at the Glen event, we were leading with minutes to go in the race, when ran out of gas a few laps short of the finish. It was a heartbreaker to not win at the event that Sahlen's was presenting. Having just driven at Gingerman Raceway, I feel very comfortable with the track, and this should assist in setting a strong, consistent pace all day long."




"I am very excited to be back at a ChumpCar weekend. The entire Team Sahlen crew has been working hard to further refine our Mazda RX7 package over the summer. If we can just repeat our pace and strategy from the World Racing League event at Gingerman, we should be in good shape to be having a dual threat for victory with both Ketchup and Mustard." – shared Team Manager Tim Weyer




2016 Team Sahlen Campaign Partners:

eEuroparts.com, Tarett Engineering, Guard Transmission, Porsche of Beachwood, Pittsburgh International Race Complex, HubstandsPRO, Brothers Grimm Landscaping, NGK Spark Plugs, CM Racing Products, Mothers Polishes, Grassroots Motorsports Magazine, Design Engineering Inc., Hard Brakes, Alcon Rotors, Lamin-X, Optima Batteries, Mazdaspeed and TheRaceSite.com.