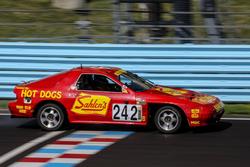 Posted (07/26/2016) -

Team Sahlen will head to Gingerman Raceway this coming weekend for their 1st race in the World Racing League. Originally, Team Sahlen was scheduled to race with the World Racing League at the April event at Mid-Ohio Sports Car Course. Unfortunately a freak spring snow storm saw the Saturday event cancelled.




"We were all set to race at Mid-Ohio, when a freak storm arrived to the Midwest. Who would have imagined we would have 6 inches of snow in April. Now it's July, and we are pretty confident that a snow storm will not be coming to Michigan. And we are getting really exited to be able compete with World Racing League. We have been watching the series from the web for a period of time now. And now it's finally exciting to able to race with the series. World Racing League is based out of Texas and has been steadily expanding to the Midwest. We are excited to be a part of this growth to the Midwest. And we are looking forward to the World Racing League's fall event in the Midwest at Pittsburgh International Raceway." – Shared Wayne Nonnamaker




The weekend's activities will kick off on Friday with open practice. Then there will be an eight hour endurance event on Saturday. After this race is over Team Sahlen crew will busily work to rebuild each race car to be ready for another 8 hour endurance event on Sunday.




This race event will also be the 1st time that Team Sahlen has competed at Gingerman Raceway. The race track is based in South Haven, Michigan, just next to Lake Michigan. At just over 2 miles, the track was laid out by world famous Alan Wilson track designer.




"It's always fun to get to drive a new race track. It's like getting to ride a brand new roller coaster at the Amusement Park. Each track you go to has its nuances that slowly reveal itself after many, many laps around the circuit. I have been watching laps on line and hope this assists in a rather seamless transition to being on the track." – Shared Will Nonnamaker




The two car driver lineups will be Joe Sahlen & Will Nonnamaker pairing together, with Joe & Wayne Nonnamaker completing the 2nd car entry. Team Sahlen will be entering their 2 Mazda RX-7s. The Mazdas are aptly named "Ketchup" & "Mustard" based on their bright Red and Yellow paint schemes. This event will be "Mustard"s 1st event back after being rebuilt from an incident at the Sahlen's Chumpyard DOG at the Glen event held over Memorial Day Weekend.




"The crew has worked extremely hard to rebuild "Mustard". And just like the bionic man, "Mustard" has been rebuilt stronger and faster than before its incident. We can wait to get it out on track Friday to shake it down." – Shared Tim Weyer, Team Sahlen Team Manager




To prepare for the event, Team Sahlen recently visited Mid-Ohio Sports Car Course on July 14th to shake out down the race cars to prepare for the upcoming event. This open test and tune event was perfectly utilized to shake down the race cars in advance of the upcoming race weekends.




"It was really great to get back out on the track. We haven't raced since Memorial Day, so not only was it beneficial to get out and shake the race cars down, but it was also nice for all the drivers to get out and get back in the groove. I can't wait to get back at it this weekend at Gingerman." – Shared Joe Sahlen




2016 Team Sahlen Campaign Partners:

eEuroparts.com, Tarett Engineering, Guard Transmission, Porsche of Beachwood, Pittsburgh International Race Complex, HubstandsPRO, Brothers Grimm Landscaping, NGK Spark Plugs, CM Racing Products, Mothers Polishes, Grassroots Motorsports Magazine, Design Engineering Inc., Hard Brakes, Alcon Rotors, Lamin-X, Optima Batteries, Mazdaspeed and TheRaceSite.com.