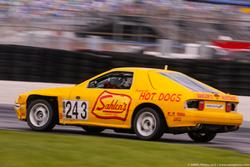 Posted (05/23/2016) -

Team Sahlen makes their 2nd ChumpCar start of the season at this Memorial Day weekend Chumpcar event at the Glen. The 1st event was the 14 Hour endurance event held at Daytona International Speedway. In that event Team Sahlen made up 3 of the 125 total entries for the race. For this weekend's entry of 100 race cars at Watkins Glen International, Team Sahlen will again be entering 3 Mazda RX-7s. The 2 driver line ups for each car will be: #242-Ketchup: Joe Sahlen & Will Nonnamaker, #243-Mustard: Joe & Wayne Nonnamaker and #141-Charcoal: Joseph Sahlen & Jacob Grimm.




Not only is Watkins Glen International the home event for Sahlen's (Buffalo, New York), but the weekend's event is title sponsored as the "Sahlen's Chumpyard DOG at the Glen."




The weekend will start with open practice on Friday. Then on Saturday will be the 1st of the double header 7 hour endurance events. After the Saturday race is complete, all the teams will get back up on Sunday for another 7 hour endurance race.




"We raced at the recent American Endurance Racing event in April. This was the 1st race ever on the newly paved surface at Watkins Glen International. And with several races and test sessions that have occurred since that event, there will be a lot more rubber laid down the track surface. This should make for great racing on the track. And I am sure that the improved surface will see some improved lap times from all Chumpcar competitors." – shared Joe Nonnamaker




Beyond the on track racing, Joe Sahlen is excited for the family outing on this Memorial Day weekend. At track camping out the whole weekend will be a full complement of Sahlens – Joe, his wife Anita, sons Billy & Joseph, Joseph's wife Kristen, and 5 grandchildren. Joe shared his thoughts "This will be so much fun having everyone here, including all of our grandchildren. We have always enjoyed camping at Watkins Glen, even as far back as the 70's when it was just Anita and I here in our van watching the Formula One races. Now to have to be able to sit back after the races are over in the evening and relax with the whole family will be a joy."




The start of both Saturday's and Sunday's Sahlen's Chumpyard DOG at the Glen will be at 9 am. The 7 hour races will conclude at 4 pm each day. Live timing and scoring of the event can be viewed by visiting www.chumpcar.com and clicking on the Live Timing button on the home page of the site.




2016 Team Sahlen Campaign Partners:

Tarett Engineering, Guard Transmission, Porsche of Beachwood, Pittsburgh International Race Complex, HubstandsPRO, Brothers Grimm Landscaping, NGK Spark Plugs, CM Racing Products, Mothers Polishes, Grassroots Motorsports Magazine, Design Engineering Inc., Hard Brakes, Alcon Rotors, Lamin-X, Optima Batteries, Mazdaspeed and TheRaceSite.com.