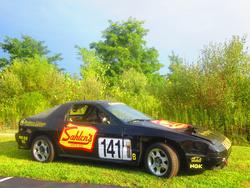 Posted (03/30/2016) -

Team Sahlen marks their return to Daytona International Speedway this April. This marks the 20th straight year that Team Sahlen will be competing at the historic track. Throughout the years, the team has been fortunate to secure 8 professional race victories at the tri oval by the beach.




For this year's journey to Florida, Team Sahlen will be racing in the ChumpCar Series. The April 2nd event will be 14 hour enduro. Over 128 entries are expected to take the 9 am green flag. Three of those cars will be Team Sahlen's 3 Mazda RX7s, ubiquitously named for the colors of each car: Charcoal, Mustard and Ketchup.




Team Sahlen's last outing in the Chumpcar series was in the fall at the Eastern Region Chumpionship event at Pittsburgh International Raceway. In that 16 hour event, the team secured a 5th, 9th and 13th place finishes.




Will Nonnamaker reflects back on that event - "We were working flat out in the summer to get both Mustard and Ketchup built for that Pittsburgh event. We were still working on cars at the shop up till 8 pm on the Thursday night before going to the track. The fact that we had all three cars finished was an achievement in itself. We have now had over 5 months off to rebuild and further refine the RX7 platform. It will be very interesting to see how all that hard work pans out when we roll out on the track at Daytona for the 1st time."




At the Daytona Chumpcar event, the driver lineup will include Joe & Joseph Sahlen as well as Joe, Wayne & Will Nonnamaker. This lineup includes 2 father/son pairings, which is most likely unique in the 100+ Chumpcar field taking the start of the race.




Joe Sahlen shared his thoughts of getting to drive again with his son, "I am very excited to come back to Daytona. It is always a thrill to drive on this track. There has been a full renovation of the facility since the last time we were here. I can't wait to see how it looks. My 1st professional race was at Daytona. And now to get to come back over 10 years later and have the experience of racing with my son Joseph is a thrill of a lifetime."




The start of the Daytona Chumpcar event will be at 9 am on April 2nd. The 14 race will conclude in the dark at 11 pm at night. Live timing and scoring of the event can be viewed by visiting www.chumpcar.com and clicking on the Live Timing button on the home page of the site.




2016 Team Sahlen Campaign Partners:

Tarett Engineering, Guard Transmission, Porsche of Beachwood, Pittsburgh International Race Complex, HubstandsPRO, Brothers Grimm Landscaping, NGK Spark Plugs, CM Racing Products, Mothers Polishes, Grassroots Motorsports Magazine, Design Engineering Inc., Hard Brakes, Alcon Rotors, Lamin-X, Optima Batteries, Mazdaspeed and TheRaceSite.com.