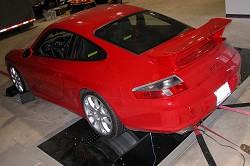 Posted (04/10/2006) - In late October of 2005, Team Sahlen moved into a new facility just miles north of their previous shop in Massillon, Ohio. The new shop, located on the grounds of the Akron Canton Airport's CAK International Business Park, is a twelve bay facility with room to park not only the team's semi-trailer but the team's motor home as well.

Throughout February and March the team added several new pieces of equipment to better prepare the team for their season in the Grand American Rolex and the Grand-Am Cup series. Crew chief, Mike Thomas, is excited about the new equipment and what it will mean for the team's upcoming season.

"Being in this new shop is going to make it much easier for us to make adjustments and better prepare for upcoming races, we couldn't be happier with our new location ," stated Thomas.

One piece of equipment that the Thomas is particularly excited about is the team's new dynamometer which was recently installed in the shop. The team has been putting the dyno to good use and looks forward to utilizing it more as the season progresses.

"We would not be able to achieve the level of performance we want without this equipment. We are very pleased to have a dyno in our shop," stated team mechanic Trevor Whipple.

The team also added a new lift, a wheel balancer, and tire changer to help with their operations. With a total of eight cars these new pieces of equipment will be used quite often. Team owner, Wayne Nonnamaker, is very happy with the advances the team has made.

"I agree with Trevor regarding our performance. We moved from a much smaller shop into this one and in that time have already taken a win. It looks like 2006 will be a very good year for us developmentally," stated Nonnamaker.

The shop and team are owned by the Nonnamaker family, who has been involved in racing since the early 1970's. Father, Joe, and sons, Will and Wayne, compete together in the Grand American Rolex series as well as the Grand-Am Cup series.