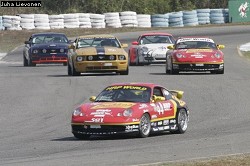 Posted (10/03/2005) - Massillon, Ohio - Team Sahlen ships out Tuesday for the season finale at Virginia International Raceway. An exciting and dramatic season for the team will end at the beautiful course in Alton, Virginia. A new driver and a familiar face will join the team during Saturday's Grand-Am Cup race, the VIR 200.

Brian Ortiz-Soto and Victor Gonzalez are set to team up at Virginia International Raceway in Alton, Virginia this weekend. For Ortiz-Soto, a sixteen year-old San Juan, Puerto Rico resident, the VIR 200 will be his first professional race on record. Ortiz-Soto will be joined by his instructor and mentor Victor Gonzalez, who joined Team Sahlen earlier this year during the Rolex 24 Hour race and the Miller 200 in Santo Domingo.

"Having Victor racing with us here at the end of the season is great. He is a great guy to have with our team and to also have Brian Ortiz-Soto who is one of Victor's students will make for an exciting weekend for our team. It is sad to see the season come to an end but this last race is always exciting for us. Brian has had a lot of experience in Formula cars which will help in his driving this weekend," states Team Sahlen driver and owner Will Nonnamaker.

Ortiz-Soto and Gonzalez will drive the Team Sahlen No. 44 Porsche in the Grand Sport class. They will be joined by Team Sahlen drivers Joe Sahlen, Joe Nonnamaker, Wayne Nonnamaker, and Will Nonnamaker. Sahlen and the Nonnamakers have driven all season for the team and received their first podium at Mid Ohio in late August.

"It has been an interesting season. After winning two straight Grand Sport titles we have even further developed these cars, but bad luck has had a big toll on our season. We have led more laps than any other Porsche team, but between getting hit out of the lead at Barber and several other contacts, it has been a rough season. Series officials have really gotten strict on contact and it has allowed us to score a third and sixth in our last two races. Virginia is one of my favorite tracks and I really feel confident we can end the season on a really strong note," stated Wayne Nonnamaker who has scored two of his fifteen professional wins at VIR.

The final Grand-Am Cup race of the 2005 season will commence at 1:50 PM (EST) on Saturday, October 8th. SPEED will air coverage of the event November 13th at 3:00 pm EST. For more race information, log onto www.GrandAmerican.com.

Team Sahlen competes in the Phoenix Twin 200's with support from Speed Group International, GOJO, HRPWorld.com, TheRaceSite.com, Hawk Performance, TheRaceMarket.com, Kempthorn Auto Mall, UNICHIP, Lamin-X, Racetech, and Grassroots Motorsports.