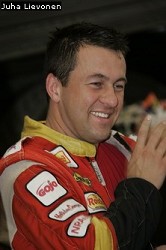 Posted (06/28/2005) - North Canton, Ohio - Team Sahlen driver, Will Nonnamaker, heads into this week's race at Daytona with an opportunity to extend his lead for the Bob Akin Award. Nonnamaker has led this award for the past three races and shows no signs of letting up in pursuit of this accomplishment.

Points are award to Rolex Grand Touring class drivers based on finishing position and number of laps driven. Nonnamaker leads TRG driver, Marc Bunting by 165 points.

In addition to Will being in contention for the Bob Akin award Will's father, Joe, is currently in fourth place for this award. He trails Synergy Racing driver Mae Van Wijk by only 117 points.

Watch Nonnamaker take on the rest of the Rolex Grand American series as SPEED airs the race on Thursday, July 30th at 8:00pm EST.

Nonnamaker and Team Sahlen compete in the Rolex Grand American series with support from HRPWorld.com, TheRaceSite.com, Rembrandt Charms, TheRaceMarket.com, Kempthorn Auto Mall, UNICHIP, Lamin-X, RaceTech, and Grassroots Motorsports.