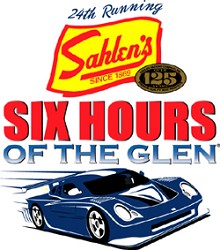 Posted (06/06/2005) - Team Sahlen will begin an exciting race weekend at the Watkins Glen PrixView Party in Canandaigua, New York. The Team Sahlen # 44 will be featured at the pre-race festivities.

Team Sahlen is the 2004 Grand Am Cup Driver, Team, and Manufacturers champion. They hope to repeat their 2004 Grand-Am Cup win at the Glen again this weekend. Team Sahlen had a total of two top five finishes during last year's Grand Am Cup race, the Glen 250.

The picturesque Canandaigua will be the location for the Watkins Glen PrixView party. Road racing enthusiasts are all looking forward to the event featuring several of the Grand American Road Racing cars, and drivers.

The event is scheduled to go from noon until 7:00 pm at the Lowe's on Recreation Drive in Canandaigua and will be broadcasted through a live radio remote. A driver autograph session will also be held from 5:00pm until 6:00pm at El Rincon in Canandaigua and will feature Team Sahlen drivers, Joe Sahlen and Eric Lux. The Watkins Glen PrixView party will surely be an event all race fans will look forward to in years to come.