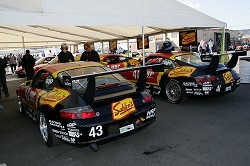 Posted (05/17/2005) - Race number five for the 2005 ROLEX Grand American series will take place this weekend at Mont-Tremblant, Quebec, Canada. Team Sahlen will be making the journey north to join their competitors at the 6 Heures du Circuit Mont-Tremblant race. The team will field a two car Porsche GT3 Cup effort in the GT class of the Grand American Rolex Series.

Rejoining Team Sahlen will be young driver Eric Lux. Seventeen-year-old Lux co-drove with Wes Allen, Brad Blum, Victor Gonzalez, and Ron Zitza this past February during the Daytona 24 Hours. Lux finished the race for his co-drivers and received his first top ten ROLEX finish. This weekend, Lux will be aiming for an even better finish in ROLEX competition.

This will be the first race Lux will co-drive with a member of the Nonnamaker family in the No. 41 Team Sahlen entry. Eric will be joined by Joe Nonnamaker, an experienced sports car driver with last year's Mont-Tremblant race embedded in his memory.

"We were all very pleased with Eric at the 24 Hour race. He held his position and drove very smart. The 24 Hour is a different type of race but we are looking forward to see what he can do this weekend in Canada," states Joe Nonnamaker.

Driving with Lux will bring back some memories for Nonnamaker as he helped his sons, Will and Wayne, develop their driving skills at a young age. Will and Wayne will be joining their father and Eric Lux on the track in the Team Sahlen No. 43 car. Both brothers are excited to return to the Mont-Tremblant track.

It was last year that Joe, Will, and Wayne took fourth in class at Mont-Tremblant. This year the team faces the challenge of a different class and an altered Porsche body style. The new body style, with its wider front and rear bodywork, took on its first race at Laguna Seca in early May. Will Nonnamaker hopes that this body style will work well with the Mont-Tremblant course.

"Our crew gained a lot of knowledge on the new body style at Laguna Seca. We finished fourth in qualifying but kept getting tangled up with the Daytona Prototypes during the race. Mont-Tremblant will be a good race for us. Dad and Eric together in No. 41 with Wayne and I in the No. 43 car, it is a good lineup. We have a lot of confidence in our team and with the changes we made to the car. I think this track will really suit what changes we have been making this season," Will Nonnamaker concludes.

"The new bodywork helped us a lot on exit from the slow corners," added Wayne Nonnamaker. "We had a lot of rear traction coming out of those turns, even though we had 400 horsepower to plant on the ground. We went to a lot of work to develop the rear bodywork on our own and it definitely was worth the investment. We have already had interest shown from other teams interested in purchasing the bodywork and we are ready to sell the pieces to them."

Team Sahlen is supported in their 2005 ROLEX Grand American effort by Rembrandt Charms, HRPWorld.com, TheRaceSite.com, Hawk Performance, TheRaceMarket.com, Kempthorn Auto Mall, UNICHIP, Lamin-X, RaceTech, and Grassroots Motorsports.