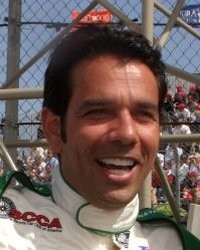 Posted (05/15/2005) - Tomy Drissi, who co-drove with Team Sahlen owner Joe Nonnamaker at the recent Mazda Raceway Laguna Seca round, will be competing in the Porsche Michelin Supercup Series at Monaco on May 22nd.

Drissi will drive for the German-based Tolimit Motorsports team. Competing in Porsche 997s against the best drivers in Europe, Drissi will pilot the Twentieth Century Fox, Fantastic Four the Movie Porsche during his European racing debut. Rocketsports Racing teammate Klaus Graf will assist Drissi during a one-day test in Spain before heading to Monaco.

The Hollywood, Calif. native eagerly awaits his venture into European racing.

"This is a dream come true," said Drissi. "To race on the legendary streets of Monaco as part of the Formula One Grand Prix is a dream I have had for a long time. It will be test for me to run with some of Europe's best drivers in a type of car that I have never driven. It will be very exciting and challenging."

Drissi will promote the July 8th worldwide opening of the Twentieth Century Fox release, "Fantastic Four." Marvel's first family of comic superheroes take the world by storm as the longest-running comic book series in history comes to the big screen. Mr. Fantastic, Invisible Women, Human Torch and The Thing together will battle the evil Dr. Doom.

Graf said Drissi will enjoy racing in Europe.

"If you haven't seen Monaco before, you will be really impressed with the whole event," said the German Formula 3 champion. "Being able to compete in the race is the icing on the cake. Tomy will test for a day in Spain prior to the event. The new 997 Porsche Supercup should come in Tomy's favor compared to the old 996 car. The new car is closer to a Trans-Am car with no ABS and an easy-to-shift sequential gearbox."