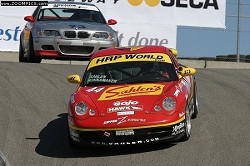 Posted (05/04/2005) - Team Sahlen made the trip to MAZDA Laguna Seca Raceway this past weekend. Loaded up with several new drivers the team remained competitive in a race plagued with cautions and contact from other competitors.

Jim Bosler and Joe Nonnamaker completed a race for the first time as co-drivers in the No. 42 car. Despite being hit on the opening straight by an overly aggressive driver, the two handled the Porsches successfully through the menacing Laguna Seca race and the aggressive driving that took place throughout the weekend.

In addition to driving the No. 42 car Nonnamaker joined son, Wayne, in the No. 40 car. In qualifying Joe Nonnamaker's grid position was effected by a malfunctioning ABS. In the race the duo also struggled when contact in the race resulted in a flat tire. The No. 40 car turned in the seventh fastest race lap in the forty six car Grand Sport field.

The third driver of the Nonnamaker family, Will, joined Joe Sahlen in the No. 44 car. The Nonnamaker and Sahlen duo were also plagued by the aggressive driving as both drivers got hit and had flat right rear tires result from the contact.

Steve MacDonald and Ross Thompson entered their first race in the Team Sahlen No. 43 car. The pair quickly adjusted to the Porsche 996's setup and the Laguna Seca track. Teammate Joe Nonnamaker was pleased with their progress, as well as Bosler's.

"What a race. I am pleased with what our team has been able to accomplish here. Jim (Bosler) did a great job as did Ross (Thompson) and Steve (MacDonald). Joe Sahlen and Will (Nonnamaker) got hit pretty hard but we all made it through the race without any contact penalties, that says a lot for our drivers," stated Joe Nonnamaker, team owner and driver.

The track itself presented many challenge for the drivers but all drivers for Team Sahlen demonstrated professionalism at the Salinas, California track. Driver Wayne Nonnamaker expressed his approval of his teammate's performance and crew's preparation.

"It's a very challenging track if you are not familiar with it. Our guys did a great job of taking care of the cars but also remained competitive. We adjusted well to the situation and avoided penalties. The crew did an excellent job in coming to this track, without ever laying eyes on it and knowing what had to be done. There was a lot of contact throughout the race and three of our cars suffered from getting hit. I think the winding nature of this circuit makes it a very challenging circuit for traffic management and that must have frustrated some of our competitors who showed a lack of patience," stated Wayne Nonnamaker, driver for Team Sahlen.

Team Sahlen competed at the MAZDA Laguna Seca Raceway track with support from HRPWorld.com, TheRaceSite.com, Hawk Performance, TheRaceMarket.com, Kempthorn Auto Mall, UNICHIP, Lamin-X, RaceTech, Grassroots Motorsports, and Zipper Interactive.